CELEBRATING 67 YEARS OF OUR COMMUNITY EVENT IN 2017!
May 26 – 28, 2017
Welcome to the Official Valley Center Western Days website – As part of the annual Valley Center Western Days community-wide celebration, we invite you to enjoy this family-friendly experience. The community of Valley Center wish to welcome you to our family-fun community event.
Each May, the Valley Center community celebrates its western heritage with a week-long series of events including the Western Days Parade, Library kick-off party, the election of Valley Center's "Honorary Mayor," and so much more.
We hope you will take the time to learn more about this celebration, and then come enjoy the fun and meet some new friends. In addition to having a great time, you will be supporting the good work in our community as the event helps support the Valley Center community.
---
WATCH THE 2016 PARADE LIVE!
---
NEWS
---
October 17, 2016 – First Board of Directors meeting – Valley Center Western Days, Inc., a non-profit organization, met a the new board was voted in. Read More
---
October 11, 2016 – Valley Center Western Days trademark officially registered.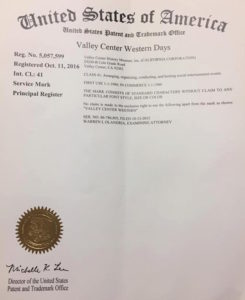 ---
July 28, 2016 – Valley Center Western Days is here to stay!
Western Days Non-Profit formed by the community, for the community  – Read More
---
April 28, 2016 – Valley Roadrunner purchases Valley Center Western Days trademark and donates to Valley Center History Museum to preserve and protect our community event. Both organizations agree to license naming rights to Valley Center Parks & Rec.
---
History on Valley Center Western Days:
The event known today as Western Days has its origin in 1950 when the community staged a Country Fair. Here is a chronology of the event and its various names as they appear in the Western Days archive at the Valley Center Historical Society.
1950-1960 Valley Center Country Fair
1961 name change: Western Week (sponsored by the Chamber of Commerce and Vaqueros)
1963-1965 Western Days name is used for some events during Western Week.
1966 name change: Western Days Country Festival
1967 name change: Country Fair
1968 name change: Western Days
1970 The first parade was held
1971 First grand marshal
2002 Rodeo was added